SCREENING TESTS
CE agreed Medical Device, our solution, in its current versions, detects:
Diabetic Retinopathy and Diabetic Macular Edema; Age related Macular Degeneration and Age related Maculopathy; and Glaucoma
Diabetic Retinopathy (DR)
Diabetic Retinopathy and Diabetic Macular Edema together affect 20 to 50% of diabetics, for a total of nearly 150 million people worldwide.
SCREENING TESTS
CE agreed Medical Device, our solution, in its current versions, detects:
Diabetic Retinopathy and Diabetic Macular Edema; Age related Macular Degeneration and Age related Maculopathy; and Glaucoma
Glaucoma
Glaucoma affects about 80 million persons worldwide, and is the first cause of cecity in people over 60.
Age-Related Macular Degeneration (AMD)
Age related Macular Degeneration affects 200 million persons worldwide. Its early form is Age related Maculopathy.
Fundus photography quality check
OphtAI checks in real time for submitted photos' quality to verify it can be interpreted.

Hence, the users know while screened persons are still present and available if they have to capture new images.

This function allows using any fundus camera on the market, as long as its photos' quality is sufficient.
Our innovative technology, designed by our scientists, allows lesion mapping.
This is the so-called heatmaps.
They display the importance of each pixel in OphtAI's decision.
This is graphically represented as a proportionally intense luminosity.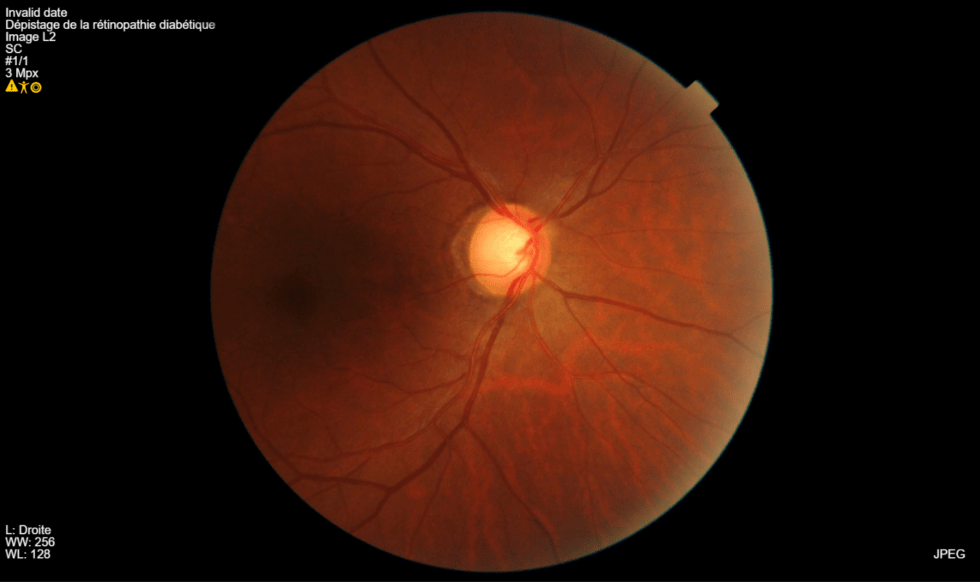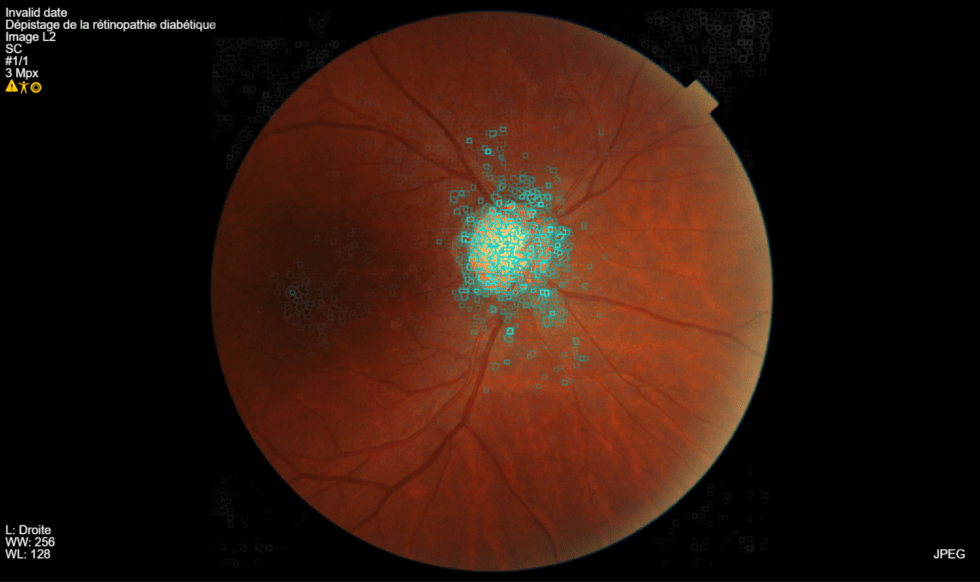 Glaucoma Example – Slide to discover the "gradual borders" type heatmap
Classification and Proportion of Similar Cases
Depending on the proportion of images receiving a given score for each ground truth (usually, healthy or not for a given disease) on a database whose cases are balanced as a function of the disease's prevalence ratio, we process the confidence level for the image score.

A confidence level equates Positive predictive value for a positive diagnosis and a Negative Predictive Value for a negative diagnosis.

So, if the patient is to be refered to an ophthalmologist (CNN output score >= threshold, confidence matches the probability for the patient actually being affected by the disease; this probability is low close to the threshold and reaches 100% when the score increases.
OphtAI is able to grade DR's severity stage
>>This function is very important as it allows knowing the appropriate course of action and the emergency level for the patient to meet an ophthalmologist.
PDF Report
Our report is a Medical Device certified PDF allowing for diagnosis,
available from any internet browser without external application,
it is customizable and allows on demand anonymization, per disease results and confidence levels integration, and lesion mapping and importance integration.