Glaucoma is the third cause of avoidable blindness worldwide, after uncorrected refraction errors and cataracts. It is the first cause of blindness in persons over 60. It affects more than one million persons just in France, and estimates are that 80 million persons are affected worldwide as of 2020.
LES PATHOLOGIES DÉPISTÉES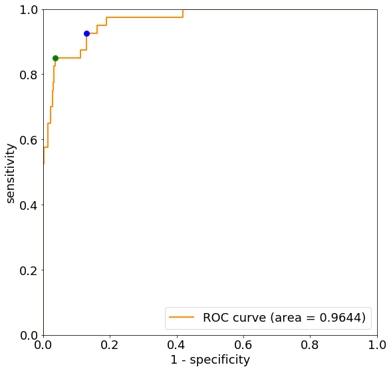 Beside: Receiver Operating Characteristic Curve
The blue point shows the recommended setting.
Sensitivity   92.5%

Specificity   86.4%
The green point shows the setting to use for having human like sensitivity (85%).
Then, human reader specificity is of 91%, versus 96.39% for the device.